Posted by
Chaya

| Posted on 05-20-2014
How do you feel about your body? How good are you at revealing who you really are – on all levels?
Have you had any of these thoughts lately?
 "No more shorts and bathing suits for me. I don't want anyone to see my legs and butt."
"I'd so much rather eat than deal with these uncomfortable feelings and issues. Where is that chocolate bar anyway?"
"Forget sex…I just feel too unattractive, vulnerable, and awkward to enjoy getting up close and cozy with my partner."
"It just depresses me to see these perfect, skinny, gorgeous models in the magazines because there's no way I'll ever look like that."
"I like my clothes nice and baggy. I don't want to draw any more attention to my body than I have to!"
"I'm so afraid to reveal my deepest thoughts and feelings. I'm just sure people won't like what they see."
We get so accustomed to trying to meet some impossible standard of how we should look that we forget all about appreciating, loving, enjoying, and caring for the unique body we have.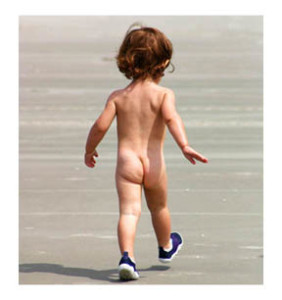 Regardless of your shape or size,
you deserve to feel good in your own skin!
Chaya here…
On Maui, Ultraviolet White energy is on the breeze and in the water. I lived there for 2 years, and it was like I was being bathed in this freeing Power.
I had friends who lived on a 2 acre property that was just like you'd imagine the Garden of Eden. Lush, sun-filled grounds with avocado, star fruit, mango, papaya, and passionfruit trees providing the shade. A 350 foot waterfall and pool to swim in.
And it was 'clothing optional'.
A friend of mine, Tara, was coming to visit me and I got her a room at the top of the waterfall. But she was panic-stricken.
"OMG, people are going to be naked? I'm not taking my clothes off – NO WAY!"
I had to reassure her over and over on the phone before she came that it truly was optional and that no one cared one way or another if she wore clothes or not.
This place was truly a judgment-free zone – bodies of all shapes and sizes in different levels of dress or undress. People who just were so comfortable in their skin, who truly just thought the human body was a natural, beautiful, artistic creation, that gave you permission to just relax and be at ease with your own body, no matter it's shape and size.
I picked Tara up at the airport, we dropped her bags in her room, put on our bikinis and sarongs, and hiked down to the bottom of the waterfall.
I turned around for 30 seconds to put my stuff on a rock, and then I hear Tara yelling, "This is fantastic! I'm feel so FREE!"
And I looked up, and there she is, arms to the sky, buck naked. The sun was caressing her upturned face and every inch of her body.
Every minute she was on that property, for the rest of the week, she went au naturel. And loved it. Ultraviolet White healing at its finest.
Tap into the Power of Revealing
and share yourself, physically and emotionally!
Opening up to and celebrating who you are and how you look can shift your whole approach to life.
You'll turn heads left and right as you walk down the street with the energy radiating from you that says, "I love how I am."
An inner freedom will blossom in you, with embarrassment and self-consciousness melting away.
You'll stop comparing yourself to the models in magazines. You'll love and respect your own body for what it is, living into your standard of "lookin' good".
You'll be more in touch with how you feel and what you want. Then you'll stop obsessing about your body and start enjoying and taking care of it.
You'll discover the joy of sex! All those old strategies to avoid revealing yourself will fall by the wayside. Snuggling up to your honey will be a natural expression of your feelings.
You'll deal with your deep emotions effortlessly, and not need addictions, like unconscious eating, to numb out.
2 ways to expose your Ultraviolet White Power of Revealing:
#1:  Tire of living in shame? Every time you notice yourself being critical of your body, try this affirmation on for size:
"I'm relaxed in my body!"
Sing it out loud or to yourself 7 times whenever you feel like running for cover. Then find at least one thing, anything, that you love about your body and say it out loud to yourself. "I love my ______!"
#2: Keep the Reveal Vibrancy Essence handy this week. Every time you notice yourself condemning your innocent body for not being this way or that, whip out that bottle, take 7 drops, and open up to seeing, loving, and appreciating it just as it is.
Remember, your body is the temple of your soul.
Your body needs to be held and to hold, to be touched and to touch.
None of these needs is to be despised, denied, or repressed.
~ Henri Nouwen
 Enjoy yourself!